Group Lessons

We love group classes because the energy varies from class to class. Some classes, more questions and determination. Other classes, more talking and laughter. Focusing on moving and having fun lessens the pressure to get it "right" the first or second time.
Expect fun dance patterns, variations, and repetition. For dancers with more experience, we add "layers": technique, styling, leader/follower connection, rhythm and musicality.
#StrictlyDance Community Classes
Immerse yourself in ONE dance style.
We host TWO weekly classes at The Studio – Home of Vaughn Newman Dance, located off I-85 exit 46A at 3906 Augusta Rd Greenville, SC 29605.
These classes are ideal for people with limited partnership dance experience, as well as beginner to intermediate dancers. Learn the fundamentals and build: dance patterns, rhythm, connection, and leading / following. All-levels welcome. No experience required.
TUES, 7-8:15pm , $7 per person
The Studio – Home of Vaughn Newman Dance 3906 Augusta Rd Greenville 29605
No partner required! CDC guidelines enforced.
THURS, 7:45pm line dance; 8-9pm Salsa Lesson, $7 solo / $10 pair
The Studio – Home of Vaughn Newman Dance 3906 Augusta Rd Greenville 29605
CDC guidelines enforced.
NOTE: Pre-Covid19, participants frequently switched dance partners, which allowed everyone to connect with new and familiar faces. Switching dance partners accelerates learning and promotes community well being too. We await the days when we resume this fun social practice!
Private Group Lessons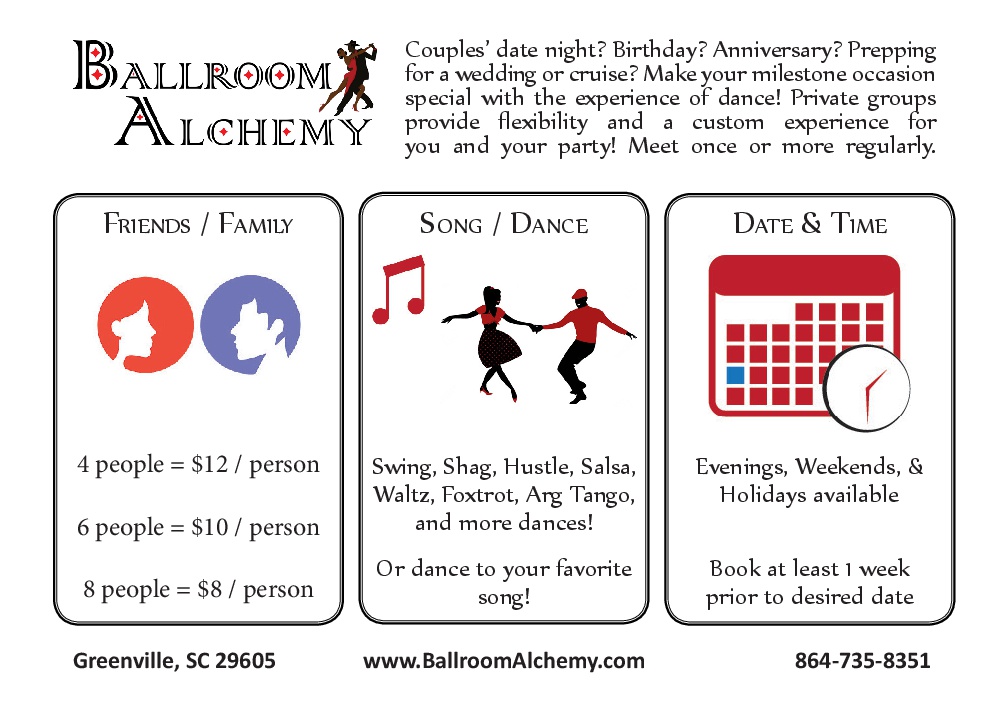 Ballroom Alchemy's point of difference blends private lessons and group classes into one. Book a private group and access incredible value and maximum flexibility.


Did you know? Learning something new with people you like eases anxiety and tension. Share the experience of dance lessons with friends and loved ones!
Couples' date night? Birthday? Anniversary? Wedding dances? Cruise? Special event? Bucket list? Just Because? Book private group lessons to commemorate the special occasion or to prepare for your next event!
First, gather your people (4 – 20 ppl)
Second, choose a dance style or song
Third, coordinate a date + time
Lastly, call/text 864-735-8351 or Email Connect@BallroomAlchemy.com to book an appointment!